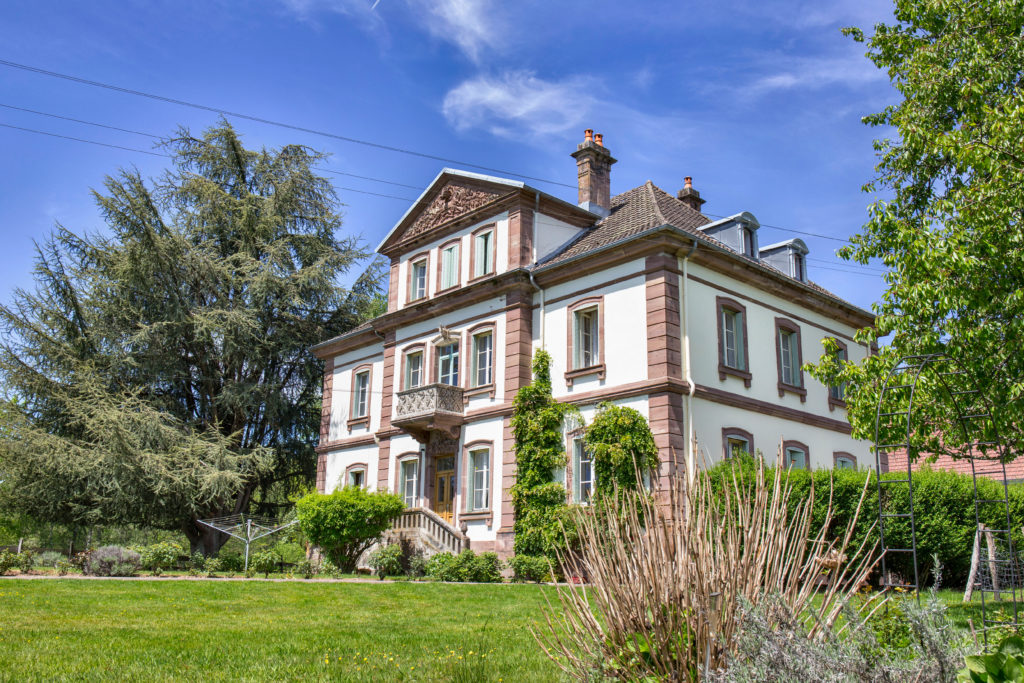 Pavillon de Chasse has nine bedrooms, three bathrooms, two kitchens, two dining and living rooms, and a laundry room. The whole house can accommodate up to 18 people. Pavillon de Chasse can be rent throughout the entire year – even on a daily basis.
A small farmhouse-style apartment was built in one part of the barn. Recently lovingly expanded, it is only a few steps away from the main house. It consists of a spacious bedroom on the first floor (double bed and small pull-out couch) as well as a modern kitchen and a bathroom. The farmhouse can be booked separately or in addition to the main house.
Equipment:
Bed linen, hand and drying towels
Dishwasher, ceramic hob, gas hob, oven, refrigerators, ice chest, coffee machine, fondue pan and raclette oven, microwave, toaster etc.
There is a washing machine on the ground floor of the main house and one in the bathroom of the farmhouse
A cot + high seat and baby bath are available on request.
Fireplace and pellet stove (apartment 1), Swedish stove (apartment 2), pellet stoves in the farmhouse
WIFI, CD player, stereo, radio
In the main house there is a game room with a pool table, foosball table and numerous toys, to entertain kids and adults alike.
Apartment No. 1
(Accommodation consisting of 7 bedrooms, 300 m2, ground floor and first floor, suitable for a maximum of 10 people)
Ground floor: dining room, kitchen, living room and game room. A wrought iron glass door separates the entrance hall from the dining room. A large fireplace and a sandstone floor, which is characteristic for the region, invites you to spend the evenings together. The bright kitchen is generously equipped with a central stove. Here you can cook together and realize your culinary projects. In the living room, which is directly connected to the kitchen, you will find an open fireplace and a grand piano, just waiting to be played. The living room has a door that opens directly to the garden. Next to the living room there is an oak-walled room, equipped with table football, board games and toys. Access the first floor via a sandstone staircase from the entrance hall.
First floor: bedroom and bathroom
On the first floor you will find 3 double rooms and a children's room with 2 single beds and a 2-seater sofa bed. The middle bedroom has a fireplace, a set of armchairs and a sofa, and a small balcony. A spacious bathroom with bath and toilet is directly accessible from one of the bedrooms. The second bathroom has a shower and a toilet. The two bathrooms are also accessible from the corridor.
Apartment No. 2
(Apartment with 5 bedrooms, 150 m2, loft, suitable for a maximum of 9 people)
The stairs in the central entrance hall of the hunting lodge lead to the attics. The apartment there covers 150 m2 of living space and has a large American kitchen. The kitchen is equipped with a dishwasher, a ceramic stove and an oven. It opens to the dining area and living room. Its wooden beams characterize the entire room. Thanks to the large Velux windows, the rooms are bathed in sunlight throughout the day. A comfortable sofa and a wood stove invite you to relax. The four bedrooms and a bathroom with shower and toilet complete this attic apartment. The entire apartment is equipped with radiators and connected to the central heating.
An oasis of calm for our visitors
The property is an oasis of calm for families, sports enthusiasts, people who are looking for peace and serenity, and groups of travellers with multiple interests. The lodge is also rented regularly to celebrate weddings – don't hesitate to contact us. For the organization of various courses and activities, the Pavillion offers a 45 m2 room in the neighboring farmhouse with a kitchen and an additional bathroom.
Possible activities and courses:
Music (a grand piano is available)
Cook
Ayurveda
Meditation
To go biking
Painting
Photography
The garden and our animals
Start the day with breakfast in the garden!
In the carefully maintained garden of the hunting lodge you will find, among other things, two generously furnished places that are large enough to accommodate outdoor sofas and deck chairs. Here you will find a comfortable and quiet place to relax at any time of the day. Thanks to the grill in the garden, you can also enjoy an unforgettable barbecue evening with a view of the surrounding fields.
Sit on one of our deck chairs and read a good book!
Children can make many discoveries when exploring this vast area. They also have a wide selection of games. A small wooden hut, a slide and a swing are just waiting for one thing: for your children's next adventures! Various toys such as a children's tricycle and a tractor are also available.
A table tennis set and a giant trampoline are available for both older children and adults.
Animals are welcome.
Your pets are also welcome during your stay in the hunting lodge.
We lived in the pavilion with our two daughters between 1996 and 2003. Unfortunately, all of our animals, except Rose, died of old age.
Important information: Various horses and sheep that belong to a farmer and rancher are now on our pastures. The latter does not care much about his animals and we have decided to give them access to our pastures so that these animals can regularly find food and water there. Unfortunately, we cannot intervene in the care of their hooves, especially since the animals are exchanged regularly.
Thank you for reading this information and thank you for your understanding!
The property pond
Immerse yourself in the cool water of the pond and draw strength!
The property includes a natural pond that extends over 4 hectares and is supplied by numerous water sources.
In this natural pond you can also do other activities such as fishing, photography, painting, reading and relaxing.
Swimming at your own risk.
Access to the pond is of course included in the price.